Careers support for graduates
Ongoing Careers Support for Graduates
As a recent graduate of The University of Manchester you can continue to use the Careers Service within your eligibility period; usually for two years after completing your degree.
This means you will continue to have access to:
Get in touch if you would like to discuss how we can support you with your career. Check out our 5 top tips for reconnecting with the Careers Service as a recent graduate, or go head and book a one-to-one careers appointment with one of our Careers Consultants via Zoom.
If you are a graduate from The University of Manchester and your eligibility period has ended, find out more about external sources of careers support.
What next after university?
Use our Interactive Graduate timeline to help you plan your next steps after university. Click on image below - resource opens in a new window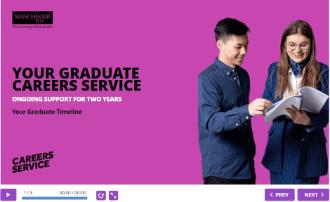 ‌‌
CareerConnect
CareerConnect allows you to search for opportunities, register for events, and book appointments. All graduates can continue to access CareerConnect for two years after they finish their course.
If you are a summer 2022 graduate, you can continue to access CareerConnect using the 'Student sign in' option with your student email address. If you receive a 'permission denied' error message after entering your details, don't worry. All you have to do is click on the 'Graduate sign in and registration' option, and register for your free graduate account using your personal email address and alumni ID number (the same as your student ID number), as explained here. Then you will be able to access your free, graduate CareerConnect account for two years after your course completion date.
Please note: you cannot apply for a graduate account while your student account is still active.
CareerSet online CV and cover letter checker
Get instant CV or cover letter feedback 24/7 with CareerSet, wherever you are in the world. Log into CareerConnect and you will find your exclusive alumni code in the CV and Cover Letter Pathways, simply use this to create your CareerSet account. Remember to use the same email you used when you registered for CareerConnect!
Get help finding a graduate job
Not sure where to start?
International Graduates
Master's Graduates
PhD Graduates