Finding jobs and experience
Whether you are in your first or final year or have just graduated, you may be looking for opportunities to gain experience or start your career. Use the options in this section to help you make the most of Manchester, your university experience and beyond. Use the timeline below to help you make the Most of Manchester: Click on image - resource will open in a new window
‌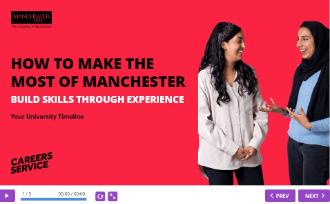 Opportunities include everything from paid work to volunteering, entering competitions and short term work experience (internships). Everything you do will help you gain skills and understand more about yourself, different sectors and the job market.
Some opportunities are advertised widely, while for others you may need to do more research for or find your own.
Getting started
University of Manchester Schemes
In CareerConnect you will see a tab entitled "UoM Schemes". These opportunities include a variety of schemes that the Careers Service is either wholly responsible for, or is managing on behalf of a recruiter (either The University of Manchester or in some cases an external organisation)
This means in many cases there will be no external applicants so you have a far greater chance of being considered.
UoM Schemes include: