Taught postgraduates – current and recent
The Careers Service supports our taught masters (includes MA, MSc, MRes etc), postgraduate diploma and certificate students with specialist careers staff with extensive experience of working with postgraduates.
We develop resources and run events aimed specifically at postgraduates, recognising that your experience and career ambitions are different from our undergraduates.
Whether you're just starting out, are an experienced professional or a career changer, we have the resources and people to help you manage and develop your career.
Just started your taught postgraduate programme - or just entering your final year?
Welcome - or welcome back! Nana Agyeman, Postgraduate Officer at the Students' Union, and Elizabeth Wilkinson from the Careers Service tell you how to make the most of this year in just two and a half minutes.
If you haven't yet seen the Careers Service welcome page for taught postgraduates, don't miss out on:
Just finishing your programme?
Congratulations! Find out how we can continue to support you and help you take your next step with Nana Agyeman, Postgraduate Officer at the Students' Union, and Elizabeth Wilkinson from the Careers Service.
Try our new online career planning resources - just for taught postgraduates
You're on an intensive programme, and a lot of employer and postgraduate recruitment activities take place in the autumn, often shortly after you start. Let us help you navigate your way through.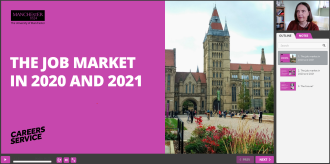 The job market in 2020/2021
(interactive resource, opens in new tab)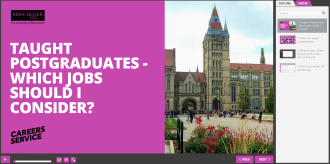 Taught postgraduates: which jobs should I consider?
(interactive resource, opens in new tab)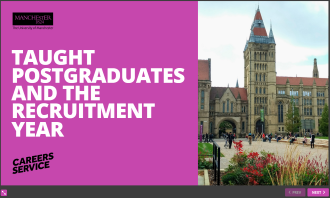 The recruitment year for taught postgraduates
Find out "what happens when", to make sure you don't miss out (interactive resource, opens in new tab)
Thinking of a PhD?
Make the most of your taught postgraduate study
How can you really make your taught postgraduate programme work for your career, wherever you want to go next?
Our interactive resource looks at
How to build your experience, skills, connections, knowledge and insights throughout your programme - and for those at the end of their programmes, reminds you how far you have come.
How to really understand what recruiters are looking for - both employers and potential academic supervisors
How to promote your taught postgraduate experience effectively to help employers and academics understand the benefit you could bring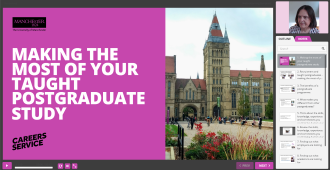 Making the most of your taught postgraduate study
(interactive resource, opens in new tab)
Further careers support
As busy postgraduates, we know that thinking about your career often has to fit into odd hours to suit your schedule. Therefore we've focused on making as much support as possible both self-service and available 24:7.
Careers talks and workshops
You can join us by attending our postgrad careers talks - or watch afterwards at a time to suit you. Topics include:
Next steps for your career for taught postgraduates (including job search)
CVs and other types of written application
Interviews and other types of assessment
Becoming an academic
Careers events, including employers and alumni activities
Join in the wide range of sessions open to any student, including employer webinars, careers fairs, our "Meet the Professionals" alumni panels and career skills sessions to boost your professional profile, including our LinkedIn workshops (very popular with our postgraduates).
Many of our events, particularly those including employers and alumni, run only once a year - keep track of what's on when so you don't miss out. Find out more with:
News and updates
Look out for regular postgraduate careers tips with our monthly careers newsletters, specifically for taught postgraduates. Keep up with our blog and social media (Facebook, Twitter, Weibo) with articles, news and tips for all students.
Need further support?