I have some career ideas... but I need to find out more about sectors and jobs
Perhaps you have some career ideas but need to know more about jobs and sectors so that you can refine these further, or maybe you are just starting to consider what opportunities are out there. If you do have some career ideas, it's a good idea to double check that your perceptions of a role (or sector) are accurate.
Don't forget that your careers consultant can talk through any of these strategies with you in a one to one appointment.
1 You can start your research by using:
2 Talk to people:
Ask friends, family and people you know:
For feedback - they may have suggestions of careers they think might suit you.
What do they think you're good at?
What jobs are they familiar with? Who can they put you in touch with?
Don't forget to talk to us at the Careers service as well! We can offer an impartial and non judgemental perspective and can often provide insight and help get your thinking on track.
3 Get experience
Whilst websites can help you research the options, and speaking to people about their work can give you a great insight, sometimes there's no replacement for trying it yourself. Look for opportunities to get involved, a day of 'work-shadowing' (observing someone doing their job), a week of work experience, a summer internship, student societies and volunteering – these are all great ways to fill in the gaps in your knowledge.
If you're not sure how well suited you are to a particular job role, make sure you have a really clear picture of your strengths, values and red flags first and align these with the research, conversations and experiences you have undergone.
Use our Make the Most of Manchester Timeline to help you plan time to build skills and make applications. Click on image below - resource will open in a new window.
‌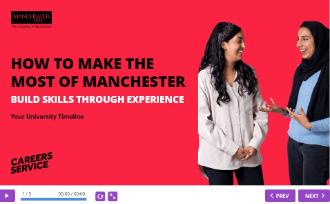 ‌