What is LinkedIn and why is it useful for students?
LinkedIn is a key global professional networking site and is an invaluable tool for students to network with alumni and recruiters. Employers are also using LinkedIn as a recruitment tool.
LinkedIn is useful for:
Developing a professional online profile to complement your CV
Making contacts with people working in your chosen sector.
Searching for organisations to target by your location of preference, or industry sector.
Researching jobs and different types of job and career paths.
Connecting with alumni around the globe for insight and guidance.
LinkedIn Academy Toolkit
Step 1: Use our LinkedIn Academy guide to create a professional profile
Click on the image below to start (resource will open in a new window)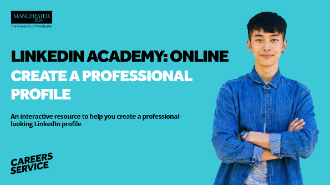 ‌
If you would like feedback on your LinkedIn profile book a LinkedIn Review appointment.
Step 2: Use Our LinkedIn Academy guide to help you start connecting with others online
Click on the image below to start (resource will open in a new window)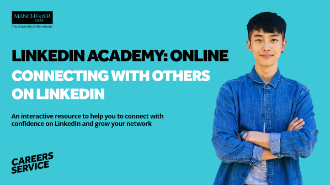 ‌
Getting started with LinkedIn
1. Develop an effective student (or graduate) LinkedIn profile
Start by copying across information from your most current CV.
2. Start by connecting with people you already know
When you do a search on LinkedIn, it will prioritise the results depending on your degree of connection with that individual (e.g. the closer your connection, the more information you can see on their profile). Thus, the more connections you have, the greater chance of the results including people to whom you are connected.
Connect with classmates – you won't be students forever and you can tap into each other's networks.
Connect with staff – some academic staff and research students will connect with students, or at the very least suggest groups to join.
Connect with work colleagues – especially where relevant to your career interests, but you'd be surprised how many people have connections you would never have imagined! Look for your friends, family, classmates, colleagues and employers from part-time jobs and internships, and contacts from volunteering, extra-curricular activities etc.
3. Join some LinkedIn groups
The groups you join will signal to future employers the kinds of work, employers or values you have. Joining groups to link to your volunteering interests speaks volumes, as does membership of any professionally based groups associated with the kinds of careers or industries you're interested in. Following companies will also signal your interest in work areas too.
Some groups have open membership, others you need to request to join – having an up to date profile will encourage group admins that you are serious. Find groups that people working in your target careers are members of or search across LinkedIn.
Follow companies to find out about news and job opportunities. NB. Organisations who recruit on LinkedIn sometimes screen out applicants who aren't following their company on LinkedIn!
4. Use Alumni Search to connect with Manchester Graduates
This tool will allow you to search the profiles of all Manchester students and graduates on LinkedIn. Enter "The University of Manchester" in the top search box and select the profile with the logo.
You can search Alumni profiles using the following criteria:
Search the set of Alumni profiles using a key word;
Search for profiles between specific dates (attended or graduated);
You can explore where they live, work, what they do, what they studied and what they are skilled in (the last two can be viewed using the arrow icons at the side of the bar charts). You can also click into the individual bars to filter results e.g. people living in Manchester.
Useful LinkedIn groups to join
Note: You will need to be logged in to www.LinkedIn.com to be able to access the groups listed here.
As with other social media platforms, scammers also use LinkedIn so be careful and use your judgement when considering a contact or potential opportunity made via LinkedIn.
If it sounds too good to be true, it probably is…
Do not part with any money unless you understand exactly what you are getting.
Be suspicious of emails asking you for personal information beyond your email address.
Be suspicious of emails coming from people you don't know asking you to install software or open an attachment.
If in doubt, don't apply or agree to anything.
For more information about jobs that you should be suspicious of, have a look at Common types of scam jobs.