Interview preparation and practice
Understanding the different types of interviews, the best techniques to answering the questions and becoming more familiar with typical interview questions is something all students need to be prepared for. We offer a range of information and support to help you.
2020 has seen a shift in the way employers are interviewing. Due to recent restrictions in place, you are likely to be interviewed either via the telephone, live on a Skype call, or perhaps be asked to complete a pre-recorded video interview, which the assessor will watch back after you have submitted. Most of the time, your first interview can feel intimidating, so we want to provide you with opportunities to practice!
Video interview practice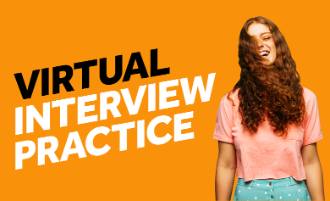 ‌
When you have been invited for Interview: Book an simulation with a Careers Consultant
The simulation will take the form of a role play where the Careers Consultant takes the part of the interviewer and asks you questions before giving you feedback on your performance. The interview simulation is suitable for a job or postgraduate course interview.
Please note: we are unable to simulate group, panel, technical or research based interviews, nor can we predict the exact questions you will face at your real interview.
Need a space for a video interview/assessment centre?
Students can book an individual space on campus for an Employer Online Interview or an Assessment Centre. Around 60 small central teaching rooms are available across campus. Book using Resource Booker. Government guidelines are being followed regarding COVID-19